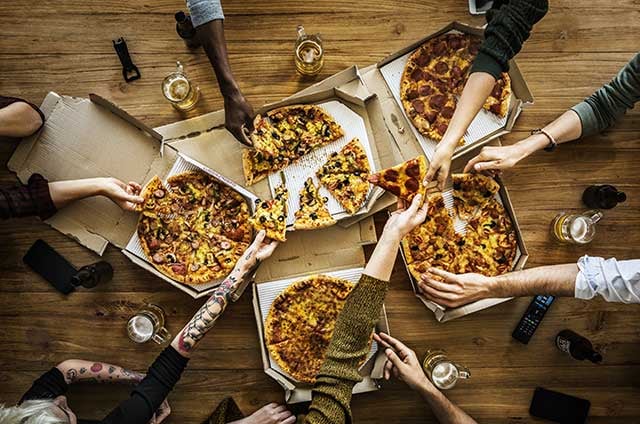 Pizza has always been a fan favorite. In any given week, nearly half (44%) of American consumers eat pizza from a restaurant at least once, Technomic found, and 3 in 10 consume frozen or take-and-bake/refrigerated pizza.
Although food trucks, customizable fast casual chains, and other concepts have made the marketplace considerably more competitive in recent years, traditional pizza restaurants and retail pizza products remained consistently popular picks throughout the pandemic. More than a third (36%) of consumers told Technomic they were ordering pizza as much as—or slightly more often than—they did pre-COVID-19. In March 2020 alone, Americans spent $275 million on frozen pizza varieties—a 92% increase from 2019, per IRI.
Pizza hit the spot throughout the pandemic because consumers were reluctant to seek out new dining experiences and favored what was comforting and affordable, says Suzy Badaracco, president of food industry think tank Culinary Tides. But after a year of frequent pizza takeout and delivery, they could start gravitating toward other cuisines.
To keep consumers craving pizza in a world of increased options, both operators and manufacturers must stay attuned to pizza trends and adapt their offerings accordingly. Those who do so are more likely "to capture people the competition isn't," she adds.
A Touch of Adventure
Consumers may be feeling fatigued or ambivalent about their pandemic-era food choices, but they still tend to prefer traditional pizza options, according to Sofia Saravia, a senior consumer and shopper insights manager who tracks industry data for Saputo Dairy USA. Case in point, she says: Mozzarella and pepperoni remain their top cheese and meat choices, respectively.
Still, minor tweaks to pizza's composition could provide the variety consumers may be craving. "There are certainly fun things you can do that are still extremely approachable," Badaracco says, pointing to breakfast pizza and trendy foods as toppings as examples. (Other trending ingredients include nigella seeds and ajwain.)
One way to shake things up is to revive cheeses that were popular in 2019 or expected to be popular in 2020, "before the pandemic stopped them in their tracks," Badaracco continues. Ricotta cheese (such as Saputo® Premium Gold), regional Parmesan cheeses (like those produced under the Stella® brand) and burrata are all "cheese trends that can easily go forward again," she explains.
Or consider pairing unexpected cheeses with those more commonly found on pizza, suggests self-described "pizza czar" Anthony Falco, who spent eight years working for the Brooklyn, New York-based pizzeria Roberta's before opening a global pizza consultancy in 2017.
"I really like seeing mozzarella as a base cheese, paired with small amounts of high-quality artisan cheeses, like crystalline cave-aged cheddar, creamy washed-rind cheeses or grassy sheep's milk cheeses," Falco says. He says he's also seen more light, fresh cheeses like ricotta being used on vegetable-driven pizzas lately.
Maximizing Pizza Factors and Format
Also having a moment: pan pizzas. While still an emerging style, Falco says they're well-suited to the current pizza environment, given the thermal density of their crust, which helps them stay hot for takeout and delivery. Plus, he adds, "they're a real comfort food."
Regional pizza styles like those common in New York (which Technomic found to be most popular, followed by Chicago- and California-style) could potentially offer consumers with wanderlust, who aren't yet ready to physically travel, the chance for a quick culinary trip. "We've seen a focus on regional pizza styles," including those from smaller cities, confirms Nikki Trzeciak, executive chef and senior manager, culinary and sensory for Saputo Dairy USA. "Both Detroit-style and St. Louis-style pies have hit the menus at some national chains."
With the recent media attention regional styles have received, consumers may be familiar with the qualities of some styles—even if they've never tried them, Badaracco says. For that reason, authenticity is crucial. If it's assembled or composed in a particular way, follow the formula. Today, she says, people are more likely to know what to expect, and if you deviate, there could be a backlash.
The same principle applies when calling out elements such as sustainable packaging or locally sourced ingredients, which can be major drivers for both foodservice and retail customers. Without additional information, she warns, many consumers won't trust terms (such as authenticity and functional) that aren't well-defined.
"[There needs to be] a backstory as to why you're putting things on pizza," Badaracco explains. "It would help if the company finished the sentence for consumers and said, 'It's a recipe that comes from so-and-so, who had a restaurant for 50 years in Detroit,' or 'It's often rectangular-cut, with sauce on top and ingredients underneath.' Explaining it to the consumer [helps] them trust you, because now they understand why you're saying it's Detroit-style."
Fostering Future Sales
As consumers' on-premises and other dining options continue to expand, pizza operators and manufacturers can retain their business through innovation. But connecting offerings to issues consumers care about also can pack a powerful promotional (and emotional) punch, particularly if they're produced in ways that touch on several areas of interest—a tactic known as layering trends. For example: "Talk about sustainability. Call out regional elements or varietals of vegetables on pizza," Badaracco suggests. When you satisfy multiple consumer drivers by layering trends, she says, you can double or triple consumer loyalty to your operation or brand.
Value also will continue to be a selling point. "Budget is a big thing this year," Badaracco continues. "People are going through a tough time and need to know what [the businesses they support] are doing to help." Restaurants that pair pizza with another item or offer discounted family specials a couple nights a week, for example, can help customers feel they're getting a good deal.
Best of all, Badaracco concludes, pizza has an advantage few other cuisines can match: "It feeds more than one person, typically."
Find out how chefs are using Saputo's high-performing dairy products to deliver value in dishes—and how Saputo's portfolio of cheeses are helping some of the largest food manufacturers add taste, texture, aroma and culinary performance to products ranging from pizza to salad dressings.