Tart, salty, and pleasantly mild, goat cheese is a winning addition in recipes across the culinary spectrum—from appetizers (like these tamales with pulled smoked chicken) to dessert (Fig and balsamic ice cream, anyone?).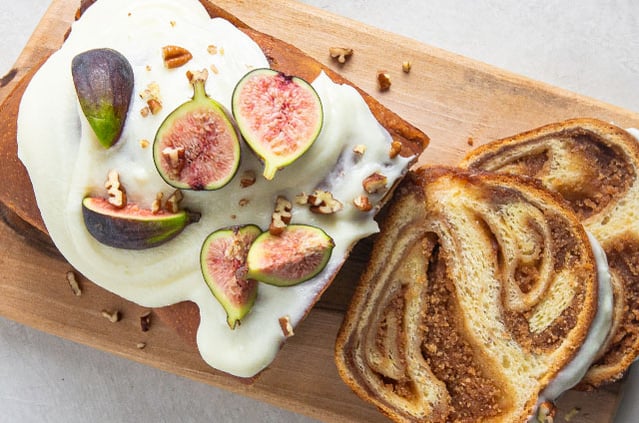 Also known as chèvre (French for goat), goat cheese adds a distinctive tanginess that consumers are craving with increasing regularity. "The growing preference among consumers for healthier alternatives is primarily driving the growth" in the goat cheese segment of the global goat's milk products market, a June 2020 Research and Markets report found. Indeed, IRI data confirmed a 3% increase in consumer goat cheese sales from 2018 to 2019 alone.
Chefs are capitalizing on this increased consumer demand: nearly a quarter (23.9%) of U.S. restaurant menus now feature dishes in which goat cheese appears—up a notable 61% since 2009, per Datassential MenuTrends. The most likely places to find goat cheese on menus, Datassential reports, is as a crumbly topping on salads (29.5%) and pizza (9.6%) or as a creamy addition to sandwiches (8%) and egg dishes (5.5%).
In honor of National Goat Cheese Month, let's take a look at how to milk versatile goat cheese for all it's worth.
How Goat Cheese Cooks
As is the case with cheese made from cow's and sheep's milk, the process of making goat cheese begins with adding a starter bacteria culture and a powdered rennet (a complex set of enzymes found in the stomach lining of cows and goats) to the milk. The bacteria turns the milk's lactose into lactic acid and the rennet curdles the milk so that the solid (curds) can be separated from the liquids (whey).
But unlike cow's milk cheeses, goat cheese is rarely aged for long. Fresh chèvre is typically aged for no more than two days, but other goat cheeses are aged for anywhere from three to 10 weeks, which makes them drier and crumblier but still keeps them semi-soft.
Goat cheese gets its tangy taste and smell from its high amount of fatty acids. It also contains less milk protein, making it softer and creamier—and a perfect choice for bagel spreads, dips, and a zippy addition to pasta sauces.
Where cow's milk goes, goat's milk often can follow. Goat's milk works well to make creamy favorites like Gouda, Camembert and feta cheese. A goat's milk Brie may be even creamier and more flavorful than one made with cow's milk. Goat cheese isn't as stretchy or strong as cow's milk cheese, however, so it wouldn't be the best choice to create gooey mozzarella sticks.
Recipe for Winning
Tart goat cheese is interesting enough to stand out, but mild enough that it won't overpower other ingredients. Here are a few real-world examples of how to add goat cheese to your menu.
Spinach goat cheese and caramelized onions white pizza: Uno Pizzeria & Grill's sweet-and-salty pizza blends fresh spinach with caramelized onions, a goat cheese topping, cherry tomatoes and a drizzle of balsamic glaze. Goat cheese can be mixed and matched with just about any pizza topping you can imagine.
Brilliant Beet Toast: First Watch, a breakfast and lunch chain with more than 200 locations in 26 states, tops whole grain toast with a beet hummus spread, sliced avocado, pickled onions, diced beets, lemon-dressed arugula and herbed goat cheese crumbles, and then serves it alongside two eggs.
Lamb burger with goat cheese and balsamic onions: This burger by chef/co-owner Hosea Rosenberg of Boulder, Colorado's Blackbelly packs incredible punches of flavor with fresh herbs, ground lamb and pork, a healthy dose of softened goat cheese, and thickly sliced balsamic red onions.
Butternut squash and goat cheese turnovers: In response to customers wanting more savory, grab-and-go breakfast items, pastry chef Carrie Hudson of Atlanta's West Egg Cafe created these turnovers filled with goat cheese, butternut squash, thyme, red onions and garlic.
Go for the Goat
While goat cheese is a natural for topping pizzas and salads, it plays well with just about anything—from fish and meat to peppery greens, tart fruits, and salty nuts. Here are a few more goat cheese tips to keep in mind:
A fresh chèvre log, whether plain or mixed with herbs, is still the

best-selling

form of goat cheese and a

must-have on any self-respecting cheese board

.
Chefs are finding common ground in what flavors and ingredients they like to pair with goat cheese. According to the latest Datassential MenuTrends, the most common include roasted (47.7%), tomato (47.2%), vinaigrette (45.1%), onion (41.1%) and spinach (32.2%).
Datassential gives goat cheese a menu versatility score of 50 (out of 100). Though it's most often found in American (28.1% of total incidences) dishes (22.2%), goat cheese is found on 58.2% of a variety of non-ethnic menus, including French (4.1%), Mexican (3.8%), Mediterranean (1.3%), and even Caribbean (0.6%) and Indian (0.4%).
Although goat cheese doesn't yet rank among consumers' most-loved cheese varieties, they continue to warm to it. Its distinct, yet mild, taste makes it ripe for experimentation.
Ready to get cooking with goat cheese? Try these goat cheese-stuffed jalapeno poppers or this goat cheese, olive and roasted pepper sandwich.