Few appetizers or savory dessert choices yield as many oohs and aahs as a cheese board. Done well, a cheese board offers a veritable feast for the senses: the bold orange of a cheddar cheese block, the unmistakable scent of a veiny blue cheese, the glistening sparkle of a bunch of grapes, the briny aroma of an olive-filled ramekin.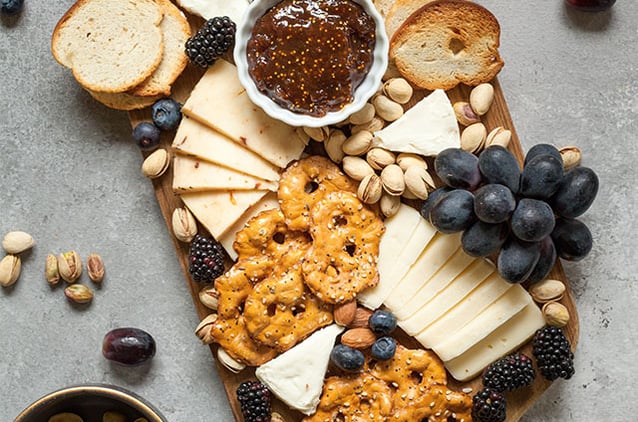 The flavors and textures of cheese are nearly endless, as are the pairing options. The good news is, you don't have to be a professional cheesemonger to assemble a palatable platter. In fact, the pros insist you can't go wrong in your choices. "At the end of the day, there are no 'no-no's' for selecting the cheese," says Nikki Trzeciak, executive chef and senior manager, culinary and sensory, for Saputo Dairy Foods USA. "Everyone loves a cheese board."
To help your operation make the most of National Cheese Day, on June 4, Trzeciak and other industry pros shared these pointers to guide your decision making.
Setting the Foundation
When building a cheese board, it helps to remember that people eat with their eyes too. In fact, sharing photos of stunning charcuterie or cheese boards has become a playful game of one-upmanship among social media users on sites like Instagram and TikTok.
A visually stimulating cheese board with interesting textures and sizes will instantly draw people in, says Claire Matern, food writer and founder of A Cheesemonger's Daughter. Think about colors as well—not just in cheese choices, but also in accompaniments: golden apricots and red, speckled salami, for example.
The size of the group you're serving should dictate how many cheeses to feature. Trzeciak typically aims for three to five. "I try to have at least one extremely approachable cheese per board, like an aged cheddar, so there's a cheese for everyone. From there, it's about picking interesting and complementary accompaniments," she explains.
For a balanced board, Matern recommends representing all three milk cheese types: cow, sheep and goat. A simple, smaller board could include one of each, while a larger board might expand to include a mixed milk cheese (a cheese made from two or more types of milk) and a double or triple cream cheese (a cheese made from milk with extra cream). Texture is also an important consideration, so choose a mixture of hard and soft cheeses.
Prioritizing accessibility for serving is equally important. Placing cheeses rind-side-in makes them easier to cut—and more appealing to diners, Trzeciak explains. "Hard cheeses look lovely in their original wedge," she says, "but people are much more inclined to eat them when they're already cut up." It's also important to be mindful of the temperature at which you're serving the cheese. Letting it sit out for a bit "tempers" the product and "wakes up the flavors so they'll dance on your palate," she adds.
Private chef and consultant Bernhard Mairinger likes to arrange the cheeses on the board sequentially, from mildest to most intense flavor. "That way, a powerful cheese won't interfere with the mild cheese you're about to try," he explains. "You don't want a rich blue cheese still lingering on your palate; that's all you'll taste."
For visual variety, some cheeses—especially soft ones—should be left whole, while portions of harder cheeses can be diced into cubes for easy eating. Then, layer in the accompanying goodies like breads, nuts, chutneys, jams, charcuterie, and fresh and dried fruits. A palate cleanser like grapes in the center of the board will draw people's eyes to the different cheese choices.
Creating Taste Profiles
Once you've considered textures and varieties, it's time to have fun with taste profiles. Like wine, cheese evokes flavors that range from sweet and fruity to grassy and nutty. A well-balanced cheese board will touch on these flavors and reinforce them with complementary accompaniments. "Crunchy, salty, sweet and tangy items all bring out different nuances of cheese," Saputo's Trzeciak says.
To create an unforgettable cheese board, mix and match the following:
Something soft and creamy: Brie cheese and Camembert cheese are soft cheese favorites that pair well with sweet condiments like jams, honeys, and chutneys. For a more adventurous crowd that's willing to push their palates, opt for somewhat pungent choices like a Camembert Fermier or a Brie de Nangis.
For an absolute crowd-pleaser, Matern recommends a chèvre cheese log, which gets a goat's milk cheese like Saputo's Montchevre® Goat Cheese on the board. Tart and slightly salty, goat cheese is growing in popularity: sales rose 3% between 2018 and 2019, according to IRI, a data analysis and market research firm. The variety "intrigues most people who try it," says Brad Panarese, Saputo's director of marketing, "and pairs well with sweet and savory flavors such as garlic, pepper, honey and blueberries."
Something semi-soft: The peppery and grassy flavors of a Munster Géromé cheese or an Époisses cheese partner well with the same condiments of the soft cheeses, but their bolder tastes "prepare you for sharper cheese notes coming later," Mairinger says.
A special semi-soft is the Italian Taleggio cheese, a washed-rind cheese that's bathed in a saltwater brine to encourage certain bacteria to grow, giving the cheese a distinctive smell and taste. "Salty charcuterie cuts through the grassiness of a lovely Taleggio and makes it a bit more palate-friendly," Trzeciak explains.
Something hard: An aged cheddar cheese, such as those from Black Creek® and Great Midwest®, is a popular hard cheese choice, Trzeciak says. In fact, cheddar is the second most-loved cheese variety behind mozzarella, according to Datassential's May 2020 Cheese and Dairy Keynote Report. Earthy and nutty Gruyère cheese, tangy Manchego cheese, and sweet Comté cheese are other great additions. Trzeciak suggests drizzling a young Manchego with honey to bring out its sweet notes or playing up the nuttiness of Gruyère with toasted hazelnuts.
Something blue: Blue cheeses like Stella® Blue Cheese or Salemville® Smokehaus Blue® Cheese can be a divisive choice, but it's a risk with great reward. "It's really nice to have a blue on the board," Matern says, but only offer one so it's the strongest flavor in the lineup.
Because blue cheeses range from creamy and balanced to aggressively tart and acidic, they lend themselves to experimentation. Salemville® Gorgonzola Cheese or Stella® Gorgonzola Cheese, for example, are nutty and mild, while a Roquefort cheese is sharp and tangy. The more acidic the blue cheese, the sweeter the pairing should be. (Think chutney, jam, honeycomb or candied nuts.) "Serving a fruity jam with blue cheese often cuts the funk a bit and makes it more approachable," Trzeciak says.
Something unexpected: A good cheese board should introduce a flavor profile that someone has never tried before or that pushes their palate in an extreme direction. Mairinger likes to put a real "stinker" on the plate, like a Limburger cheese or any "cheese that smells so strong it takes you a second to convince yourself to eat it," he says. Of course, for the cheese board to be a winner, that stinky cheese must taste a million times better than it smells, he adds.
Mairinger is also partial to the whimsical Tête de Moine cheese, a cheese that's "spiked on a specially crafted cheese cutter ... with a doll blade on top. Given the cheese's semi-hard texture, the shavings look like little flower florets," he says.
With so many flavor profiles and textures, and a colorful mix of sweet and salty foods to pair them with, cheese boards can appeal to a variety of palates. They're also a great way to get people talking—and coming back for more.
Don't have time to build your own cheese board? Consider one of these curated collections.