By summer, after shelter-in-place guidelines were lifted, indoor dining had resumed around the country (with restrictions varying by state). But with infection rates rising, a number of regions are again significantly restricting or shuttering dine-in service, forcing many restaurant operators to focus on outdoor dining as an alternative.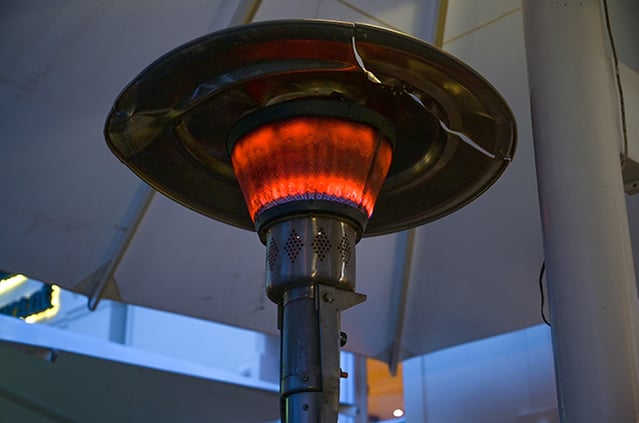 In warm weather areas, canopies and umbrellas may be all that's needed to make exterior spaces comfortable in winter months. But as temperatures drop in other parts of the country, restaurateurs are evaluating what they need to provide an enjoyable—and safe—outdoor dining experience.
How operators are approaching al fresco winter dining varies, says Amanda Topper, associate director of foodservice research for Mintel. Some are purchasing patio heat lamps and selling branded blankets, while others are erecting tents, insulated mini-greenhouses and other temporary structures. "We're seeing quite a few single-party concepts—igloos and domes, mini-greenhouses—[where people] have their own private space," she explains. "Some are heated, some are not. They're just meant to block out the outside cold and wind."
Inventive Accommodations
In September, 49% of full service and 25% of limited service operators told the National Restaurant Association they're taking actions (including installing tents or patio heaters) to extend their restaurants' outdoor dining season. Some—the Bob's Big Boy in Burbank, California, for example—have even introduced a carhop service or other auto-based options.
"We're starting to see more drive-ins pop up," Topper confirms. Offering carhops or drive-in ordering is a nostalgia play that rewards guests with "a dining experience from the comfort of their car," she adds.
Additional outdoor options may be on the way.
This fall, Chicago city officials sponsored a contest to solicit outside space solutions. The three winning City of Chicago Winter Dining Challenge designs involve block-shaped modules with radiant heat from a thermal mesh system, small adjoining cabins that fit within a standard parking space and heated tables. The city has said the Illinois Restaurant Association plans to work with local construction firms to develop prototypes that will be tested at restaurants.
In Colorado, meanwhile, design and construction professionals participated in an Oct. 19 winter outdoor dining design workshop organized by state officials, the Colorado Restaurant Association (CRA), the Colorado affiliate of the American Institute of Architects and other organizations. The event came on the heels of 50% of restaurants telling the CRA that, without some relief, they'd have to consider closing within the next six months.
The designs generated at the event include single-party enclosures, windbreaks and other ideas that could feature amenities such as a heated composite flooring system.
Although some areas of the state, such as the Front Range region, can periodically open restaurant patios when 60- to 70-degree days occur in mid-winter, the Colorado foodservice industry is hoping the designs that emerged from the workshop will spark additional ideas that could allow diners statewide to eat outside all season long.
"Restaurants have repeatedly told us throughout the course of the pandemic that they need two things to survive: cash and capacity," says Sonia Riggs, CEO of the Colorado Restaurant Association. This program "isn't a silver bullet, but we expect it will be a game-changer for some restaurants, just as expanded patios over the summer were a lifeline for some."
External Dining Deciding Factors
Adding or expanding outdoor dining isn't an option for all restaurants, of course.
Space can be at a premium in certain locations, for instance. "A lot of restaurant spaces are constrained," explains Joe Pawlak, managing principal at Technomic. In the downtown areas of major cities, "they only have so much sidewalk space and don't [always] have a parking lot." If a restaurant is only able to add five or six tables, operators have to ask themselves if it really make sense to invest in a tent, heat lamps and waitstaff, he adds.
Cost can be another consideration. Some operators may find that purchasing, heating, storing winter structures off-site in the warmer months, and other expenses are hard to justify. "A lot of restaurants are thinking about this and need to do this to weather the storm until COVID is over," Pawlak says. "But if we're buying these things, what do we do with them next winter? It might be an investment that helps [now] but may not pay off in the long run."
Even if an operator decides outfitting outdoor dining space is a worthwhile investment, supply and demand challenges can emerge. For weeks, restaurants around the country have been scrambling to add heat lamps and other accoutrements before winter officially arrives, making scarcity a real hurdle for many.
Pawlak notes that broadline distributors may be able to track down heating elements, tents and other items for their operator customers. "Some equipment and supply distributors are trying to help," he says. "These are new categories [operators] have never participated in. They're dealing with supply sources they haven't had to use in the past. It's a new ballgame for many restaurants."
Recouping Revenue and Seasonal Expenses
When COVID-related dine-in service shutdowns occurred earlier this year, utilizing curbside service, family meal deals and other strategies helped a number of restaurants increase their off-premises service. From June through September, restaurant delivery sales were 10% to 66% above 2019 levels; takeout sales, meanwhile, ranged from 16% to 77% higher than last year.
For some operators, however, the increase may not have been enough to offset dine-in losses, which dipped as low as 55% below dine-in sales totals for the same period in 2019.
With restaurants possibly facing further indoor capacity cuts, other revenue sources could become crucial. Outdoor dining shows promise as an option. In a late October survey, 75% of adults who'd had lunch or dinner at a restaurant during the previous week said they'd likely eat outside at a restaurant in an enclosed and heated tent if standard social distancing measures were followed.
While heat lamps and huts won't guarantee a restaurant's outdoor area will be filled to capacity every night once snow and bitter temperatures hit, operators may be able use their exterior space as a marketing tool to draw customers by positioning it as a safe, distinctive opportunity for a social outing. Mintel's Topper points to Chicago-based Le Sud as an example.
Le Sud management "started promoting their private pods as a glamping dining [event]," she explains. "The pods look like tents and have electric stove heating units and lighting: You're dining outside, inside a pod. Some operators are really embracing the situation and what structures are able to offer—and turning it into a dining experience."
The approaching winter will undoubtedly pose some challenges for restaurants in regions where outdoor dining typically ceased as cool weather rolled in. While major remodeling work may not be possible to get outdoor space ready in time, by utilizing temporary structures and external heat sources, operators can provide customers with a pleasant evening out—while also maximizing the restaurant's foot traffic and revenue.
As the COVID-19 pandemic continues to unfold, stay current on industry tips and trends by signing up for Saputo's monthly e-newsletter.