Digital food orders have grown at an average annual rate of 23% since 2013, so it isn't surprising that some restaurants have found fulfilling the constant influx of delivery requests challenging.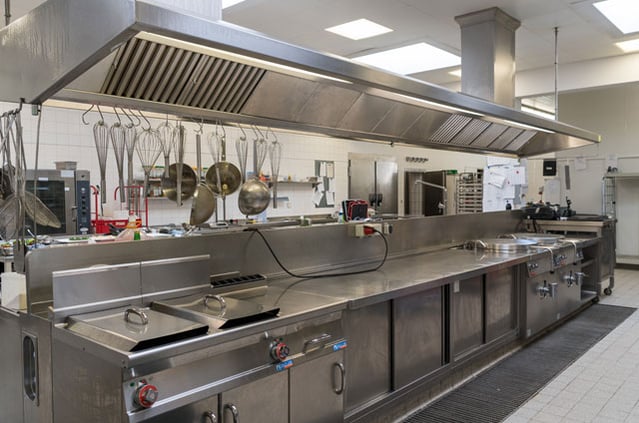 To meet the demand, some have begun producing orders in "ghost" kitchens—commercial cooking spaces that are used in lieu of or in addition to a brick-and-mortar restaurant location. (Other terms often used interchangeably with ghost kitchen are "cloud" or "virtual" kitchen, though they aren't completely synonymous. Some brick-and-mortar locations, for example, sometimes operate out of a ghost kitchen solely for delivery. And technically, a virtual kitchen is a restaurant with no physical location.)
With consumer interest in food delivery rising as Americans continue to follow COVID-19-related isolation practices—and restaurants adding or expanding delivery service in response—remote kitchen use, which can offer a cost savings and help streamline the delivery process, could become even more prevalent in the future.
Seven in 10 operators say off-premises sales now represent a higher proportion of their total business than in the pre-COVID era, according to recent data from the National Restaurant Association. Euromonitor, meanwhile, speculates that ghost kitchens could represent a $1 trillion global opportunity by 2030 and may be able to help restaurants absorb some of the industry's current takeout, drive-thru and other business.
The Return on Remote Preparation
Different ghost kitchen business models exist, of course. The most popular version generally involves offering dedicated kitchen space that a restaurant can operate from within a larger facility, says Alex Frederick, senior analyst, emerging technology at market data provider PitchBook.
"Basically, as a tenant, you're registering for one kitchen. Typically, it's private, with standard kitchen appliances, and each restaurant can bring in or lease any additional tools and appliances they need," he explains. "Some services—like shared pantries or cold storage—are a la carte, and a number of other services, such as marketing [assistance or] inventory management, are offered at a premium."
Ghost kitchen providers, including companies such as CloudKitchens and Virtual Kitchen Co., often operate in dense urban areas to take advantage of the concentration of delivery orders. Although some have allotted space for tenants to offer takeout, Frederick says the facilities typically have room at the front of the house for third-party app couriers to pick up delivery orders.
Having numerous restaurants working out of one building can help make the process easier for couriers, who may only need to stop at one place to retrieve orders from multiple eateries.
Families or groups with different dining preferences or dietary restrictions may also appreciate the business model, according to Atul Sood, chief business officer at Kitchen United, which characterizes its locations as "kitchen centers" rather than ghost kitchens.
Kitchen United generally looks for 6,000- to 9,000-square-foot facilities in each market that can accommodate roughly 10 to 12 restaurant partners, Sood explains. (The company currently provides commercial kitchen space in four cities, with plans to expand.) In addition to third-party delivery apps, customers can place orders for tenants' food via the Kitchen United MIX tool on the company's website. "We call it cross-concept ordering," he adds. "If the parents want Chinese and the kids want burgers, the family can order both with the same delivery driver on the same ticket."
Along with customer convenience, the lower initial overhead a ghost kitchen can involve—as little as $20,000, research from commercial real estate firm CBRE shows—can be a major selling point for operators who hope to expand. (By comparison, setting up a traditional full service restaurant venue can cost millions of dollars.)
Kitchen United's Pasadena, California, facility, for example, has allowed some businesses to grow their footprint in the local area without making a major real estate investment. Sood says famed Los Angeles eatery Canter's Deli was one of the first restaurants to operate out of the location.
"Another early customer, The Halal Guys, had been looking to expand into Pasadena for over 18 months and were just unable to find a space that was the appropriate fit," Sood continues. "They moved into their current kitchen within 45 days after first touring the site. The speed to market and low risk were key for them as well."
The ghost kitchen structure can also allow restaurants (particularly very busy national chains) with a brisk in-house and to-go business to section off some of the work. Such a move frees up space and other resources within a restaurant's brick-and-mortar locale, says Santiago Rodriguez, owner of Frjtz, a San Francisco eatery that began operating out of ghost kitchen space after closing its physical location in 2019.
Most restaurants don't have a lot of space for takeout and delivery. What's more, Rodriguez says, "drivers always want to use the bathroom and they get angry the food isn't ready." But with a ghost kitchen, "we don't deal with any of that. They check in, and the food is waiting for them. There's a janitorial team that cleans at night, and [the facility] deals with garbage pickup and recycling. That's a convenience."
Virtual Cooking Considerations
Whether an operator is contemplating utilizing a ghost kitchen to maximize its delivery capabilities, test out a completely new concept or phase out a physical location's expense, the approach isn't without some challenges.
Although options are sometimes available for an additional fee, ghost kitchens may not feature the same storage and refrigeration resources a permanent location would, for instance. For that reason, Rodriguez says, creative shelving and other solutions are a must
And though the lower overhead can be a major advantage over a brick-and-mortar location, ghost kitchens still involve some startup expenses. Operators need to factor in those associated costs, Frederick advises. The kitchen providers "often charge a number of fees. Some are a percentage of revenue; with some, a deposit or initial fee is required," he explains. "[That's in addition to] third-party delivery app fees, which can be 30%."
With ghost kitchens' structure often intricately tied to third-party delivery app use, any additional marketing costs the apps can require are another consideration—and may mean mid- to large-size restaurant companies ultimately turn to ghost kitchens more frequently than smaller outlets, Frederick adds.
"To stand out against the competition, if you want to be the first pizza restaurant consumers see, you have to pay an additional fee," he says. "All those fees definitely add up and can make it difficult to be a viable model. That's something smaller mom-and-pops should take a close look at. Companies that are going to have the most success operating virtually are [those] with existing brand value."
Consumer preferences have changed dramatically in recent months due to the coronavirus pandemic. Find out what customers now want a dining experience to include when they eat in a restaurant.