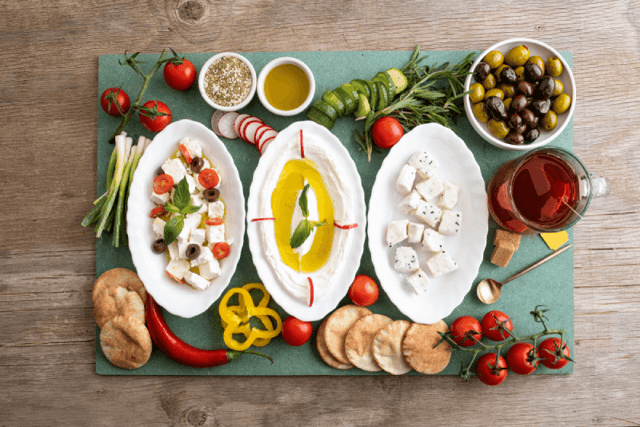 Americans adore Italian food. They crave Chinese, Thai and Japanese fare. They're wild about Mexican cooking. And more recently, they've fallen in love with Indian, Vietnamese and Filipino flavors. If you're hungry for the next big ethnic food trend, you'll need to learn a word you may have never heard before: Levant, which refers collectively to eastern Mediterranean countries such as Cyprus, Jordan, Lebanon, Israel, Iraq, Syria and Egypt, as well as parts of Turkey.
The confluence of current food and diet trends with Old World dishes, ingredients and flavors is driving the discovery of Levantine cuisine, which is enjoying a Western revival after spending millennia marinating in Middle Eastern kitchens.
Interest in Levantine food complements the current trend of dividing broad ethnic cuisines into regional sub-cuisines, says Mike Kostyo, a trendologist with food-industry market research firm Datassential. "We see the same thing with Italian or Mexican cuisine, where today you can go to a restaurant that specializes in Tuscan or Baja cuisine, respectively."
While the terms "Mediterranean" and "Middle Eastern" paint regional cuisine with a single brush, the term "Levant" celebrates individual countries and their deep food heritage—from the religious kashrut food laws of Israel to the Halal laws of Muslim countries.
Israeli Cues
A fixture of Levantine cuisine is Israeli food, a pillar of which is kosher cooking, wherein meat is segregated from dairy.
"If you serve dairy, you have to focus on ways cheese or yogurt can play a part for religious purposes," says Alon Shaya, chef/owner of Pomegranate Hospitality, which operates the Israeli-themed restaurants Saba in New Orleans and Safta in Denver.
Among Shaya's most popular cheese and vegetable dishes is the crispy eggplant on the menu at Safta. Based on a recipe he learned from his grandmother, it features thick eggplant slices that are breaded and fried; topped with caramelized tomato, garlic, parsley and extra virgin olive oil; and then finished with goat cheese and fresh herbs that are whipped together and piped on top.
Cauliflower also is a star in Israeli cuisine, especially when it's combined with dairy—usually yogurt. Shaya's popular take on the concept is whole-roasted cauliflower and feta that he whips with heavy cream, cream cheese and goat cheese until it's smooth and creamy.
Shaya says Israeli cuisine is catching on because of its emphasis on local, seasonal ingredients and because it balances proteins with vegetables. "I think it's the perfect storm for Israeli food," he observes. "Some of its staple ingredients, like pomegranate molasses, za'atar and preserved lemon, are spreading like wildfire."
Indeed, Israeli cuisine has seen 37% menu penetration growth over the past four years, according to Datassential.
"Levantine cuisine is particularly suited for modern consumers who want more plant-based options but don't want to sacrifice flavor," says Datassential's Kostyo. "So, options like baba ghanoush or crunchy falafel are great starting points."
It's not a stretch for mainstream operators to offer a touch of the Levant to their menu. "Many operators may be menuing Levantine ingredients or dishes without knowing it," Kostyo continues. Hummus, for example, which is eaten throughout the Levant, has experienced a 23% growth rate on menus over the past four years. "For a next-level option, operators should consider using the tahini found in hummus in other applications, like smoothies or desserts," he adds.
Lebanese Takes
Within the range of Levant countries, Lebanese fare is popular with the younger generation for its freshness, simplicity and low price point, observes George Salameh, chef/owner of Alforon in San Diego. "As folks gravitate more to vegan food, they would find Lebanese cuisine in particular to be the best option," he says, noting the popularity of za'atar, salads like tabbouleh, and falafel, which he prefers to bake instead of fry.
Salameh opened his Lebanese restaurant, which specializes in flatbreads, in 2010. Lebanon, he says, is still a third-world country in which food is prepared daily—thus requiring no preservatives. To create his vegan falafel flatbread, Salameh makes a paste of fava and garbanzo beans, parsley, cilantro, cumin, black pepper, salt and water. He spreads it on the flatbread dough and allows it to bake with the bread at 650 degrees. When it emerges, he tops it with parsley, lettuce, tomatoes, pickles made from turnips and beets, and tahini. "We'll add hummus if they want," he says. "It's especially popular with the young folks."
Endemic to traditional Lebanese cuisine, salad dressings never include vinegar; instead, they lean heavily on lemon, often combined with sumac, to achieve the unique flavor, Salameh explains. Tabbouleh, readily recognized for its heavy use of parsley, may be Lebanon's most popular salad, followed by fattoush made with romaine, tomatoes, cucumbers, radish, parsley, four colors of bell peppers and chunks of toasted Lebanese bread.
House-made yogurt, from which spawns labneh (or yogurt cheese), is a staple in homes and restaurants throughout the Levant. Beyond feta and goat cheese, labneh may be one of the Levant's most trending cheeses. According to Datassential, menuing of labneh has increased 66.5% over the past four years.
Like others, Salameh makes his labneh from concentrated yogurt that's allowed to ferment for sourness. "We use specially made bags that we put yogurt into with a little salt and let the water drain out to get a texture like sour cream," he says. "It's used as a dip with olive oil, fresh mint and dried za'atar, also known as wild thyme." He also uses it on flatbread.
Shanklish is a popular aged cheese made from cow or sheep milk. It has a flavor similar to gorgonzola or blue cheese, according to Salameh, who serves it both on flatbread and on a plate with hot bread, extra virgin olive oil, diced tomatoes and green onions. To make it, the cheese is traditionally rubbed with spices, including za'atar, then wrapped and buried in soil to age.
Levantine cuisine offers many consumer-friendly starting points for operators who want to add a few trendy menu options or run globally inspired limited-time offers. In addition to sourcing authentic fresh ingredients, remember to tell a compelling global story by including in your marketing efforts the item's country or region of origin, along with a few interesting facts.
When you do that, you won't just feed diners; you'll transport them. And that's what global cuisine is all about.
Sign up here to stay on top of the latest cheese and foodservice industry trends with Saputo's new monthly e-newsletter.