Blue cheese is a bit of a scientific marvel. It transforms mold—the enemy of most cheeses—into an integral ally, resulting in a unique blend of smell, texture and taste sensations. Blue (or bleu) cheeses, along with other "stinky cheeses," may have a polarizing reputation, but their popularity has increased steadily in recent years.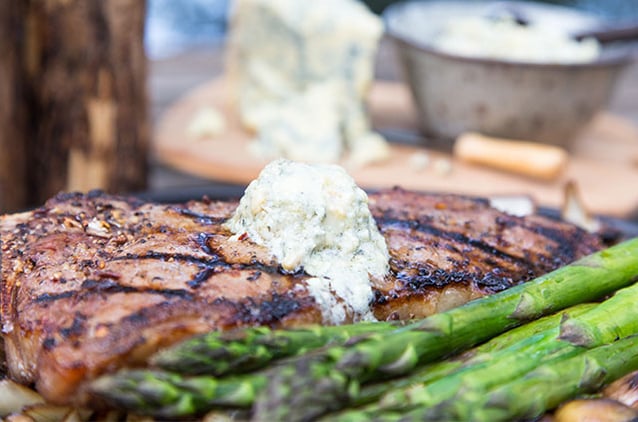 Typified by varieties such as Gorgonzola (Italy), Stilton (England), Roquefort (France) and Bayley Hazen Blue (United States), blue cheese now appears on 45.3% of all U.S. restaurant menus. That's up 7% since 2009, according to Datassential. More than half of menus at regional chains, as well as casual and fine dining restaurants, feature the ingredient.
Today's diners are looking for memorable meals with standout flavors that surprise. Although blue-veined cheeses can be pungent (and aren't for everyone), they're starting to emerge in dishes that go beyond standard fare like Cobb salads, burgers topped with a slice of blue, or bacon and blue cheese pizza.
What Penicillin and Blue Cheese Share
All blue cheeses have one thing in common: cultures of the mold genus Penicillium, a type of multicellular fungus that gives blue cheese its blue-green veins and patches. It's the same mold that gave rise to penicillin, the first modern antibiotic.
Roquefort's apocryphal origin story involves a young shepherd leaving his meal of plain sheep's milk cheese and bread in a cave, only to return months later and discover a blue-veined cheese. Whether Penicillium roqueforti spores first made their way into cheese from a cave or bread, the result is a classic variety known in France as the "king of cheeses." It and Gorgonzola (made with cow's milk and Penicillium glaucum) are likely the oldest blue cheeses—they've been around in their current forms for roughly a millennium.
Regardless of their history, all blue cheeses are produced in a similar fashion. Their unique look is the result not just of the specific mold culture added, but of a step taken during the aging process called needling. "Wheels of cheese are pierced (either by hand or by a device that can poke many tiny holes at once) to create tiny openings," writes Chef Lippe, a cheese importer and founder of Forks & Corks Vero Beach in Florida. "Air enters the wheel of cheese, feeding the mold, and blue/green veins form."
Most blue cheeses are aged for around two months.
A Versatile Ingredient
A blue adds nice contrast (and funk) to a cheeseboard, to be sure. But the real creativity begins when working these cheeses' bold flavors into dishes. They complement a wide array of ingredients: starchy bland foods like potatoes and pasta, but also beef—steaks, roasts and, of course hamburgers. Because blue cheeses are salty and relatively creamy, they contrast well with fruits and vegetables like figs, pears, cranberries, beets and even butternut squash.
But tread carefully when cooking blue cheeses over heat for, say, a cream sauce. Due to their high fat content, these cheeses should be treated like butter: melt them gently to avoid ending up with oily pools. Heat also intensifies whatever flavors are present in the cheese, so beware of varieties with overly bitter or moldy flavor profiles.
How to Menu
It isn't hard to find examples throughout the restaurant world of chefs turning to blue cheeses to execute a bold, creative vision. Here are a few that can inspire you to go beyond crumbled toppings and standard dips and dressings.
Grilled blue cheese and sirloin sandwich: This doozy from Marlin Kaplan, chef and co-owner of Grace in St. Petersburg, Florida, involves challah bread, over-roasted tomatoes and watercress. It can be paired with tomato soup and worked into lunch or dinner menus. Try it with Saputo's Salemville® Amish Blue Cheese or Salemville® Smokehaus Blue® Cheese.
Pear and blue cheese focaccia: This offbeat appetizer (or small plate) combines the fruit and cheese to excellent effect. Crumble some Stella® Gorgonzola into the mix.
Roasted beet salad with pistachio-encrusted blue cheese: This recipe, which turns the slightly baked cheese disc into a golden centerpiece, is, in a word, bold.
Fortune Favors the Blue
The bottom line is that blue cheese is on-trend: Diners are looking for bolder menu options with distinctive tastes, while still satisfying a craving. Blue cheeses check both boxes. Just remember the following:
They pack real personality. The flavors are strong, so don't let them distort or overwhelm a dish. Cook carefully over heat.


Balance is key. Strong blue cheese flavors need to be balanced with other strong-flavored foods. The International Dairy Deli Bakery Association's pairing guide offers helpful pointers.


More than just a topping. Don't overlook blue cheese's ability to support full-fledged entrees served with beef like couscous risotto or a gratin. Even ice cream is in the realm of possibility!
In a pinch for a recipe? Saputo has got you covered. Try this blue cheese bruschetta or this bold blue cheese dip.