Third-party delivery providers can be a blessing for restaurants that don't want to handle the process internally or a huge customer service headache—depending on how the relationship is structured.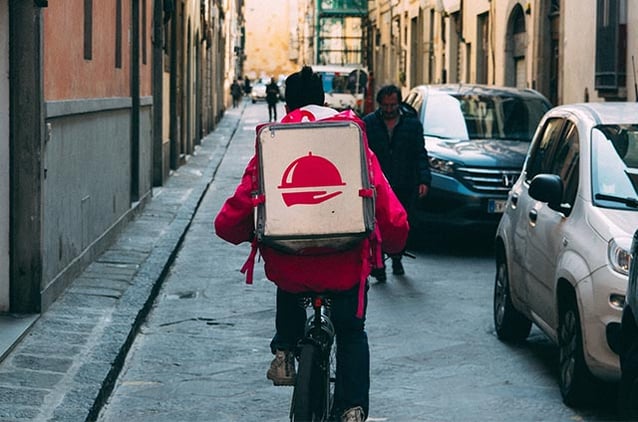 While some operators actively work with providers like Grubhub, DoorDash and Postmates, other are wary of doing so—or may not even know a service is delivering their food.
When a customer places an order through a food delivery service website or app, the service orders those items from the restaurant, and then one of its drivers picks them up and delivers them. To the restaurant, it can seem like just another to-go order.
In some instances, customers have been able to place orders through external delivery services for restaurants that don't even offer takeout or delivery—then two hours later, the service sends a notification saying the restaurant has canceled the order, according to Ben Fileccia, director of operations and strategy for the Pennsylvania Restaurant & Lodging Association.
"The restaurant had no idea that had taken place," Fileccia says. "How does the guest then react to that? They go online and put bad reviews on Yelp or other platforms like Facebook groups."
Even the most well-intentioned external delivery providers may be working with an outdated menu or have no idea a restaurant's hours have changed. Or consider what can happen when you run out of a popular dish. You can communicate that to a customer or an authorized delivery partner; not so much with a delivery service with whom you don't have a relationship. "If the delivery company is unauthorized, what happens when a guest orders that food?" Fileccia asks. "It just gets really sloppy."
Trouble with Transactions
Another point of contention? Charges that delivery providers may tack on to orders.
"Restaurants typically work on a margin of 2 to 7%," Fileccia says. "Even now, these delivery companies are charging exorbitant rates—well into the 30% range. It's really tough for restaurants to navigate those."
Recently, some cities have been introducing measures to combat the fees and pricing issues.
In February, just weeks before the coronavirus pandemic progressively shut down all but essential business nationwide, the New York City Council introduced six food delivery-related bills; some include pricing considerations, such as prohibiting certain third-party delivery providers from charging restaurants more than a 10% fee per order and requiring them to disclose the fees they charge restaurants to consumers. (The case is currently in arbitration.)
Some delivery companies use their ownership of restaurants' customer data and sizeable market share as leverage to keep restaurants on their platform and request large fees—which can mean using the services isn't profitable for many eateries, according to Andrew Rigie, executive director of the New York City Hospitality Alliance.
"The 15 to 30% fees are further devastating restaurants during this crisis," Rigie explains. "These bills begin to bring more fairness to the marketplace."
States and operators have also acted to address third-party delivery providers' services.
In 2019, a Philadelphia restaurateur filed a class action lawsuit against Grubhub, saying the service had been "charging restaurants commissions on telephone calls, regardless of whether those calls were actually made to place orders for takeout."
Months later, a California state assemblywoman introduced legislation that would prohibit restaurants from being listed on food delivery apps without a prior agreement. The bill would also require app providers to share information with restaurants about customers, including their location and email address.
As of February, Rhode Island legislators were also considering a bill that would prevent third-party delivery apps from listing restaurants on their site without written consent.

Partnership Best Practices
When selecting a delivery provider, operators may want to do some initial crowdsourcing to avoid paying excessive fees. "Ask friends in the business whom they use and why they like them," Fileccia advises. "Find out who is paying the least and ask for that. Negotiate the best you can to try to get a good deal—there are certainly enough of them to be able to play them against one another."
Fileccia also advises double-checking the agreement's fine print to ensure you understand what you'll really be paying.
"Just because they say they're going to charge a 12% pickup fee, they might also charge a 12% drop-off fee and a 5% advertising fee," he says. "Make sure you know exactly how many pennies you're making on the dollar for food that gets delivered."
While it may not be something you address directly with delivery providers, packaging can be a key component of your delivery service relationship. Shopping around for durable containers that will maintain heat and keep food secure can help reassure customers their order is complete and packed with care. It may also help prevent certain issues arising, such as missing items employees swear they packed and drivers deny removing.
"Something I saw in 2019 that I thought was really smart was a bag that was sealed on the restaurant side," Fileccia says. The seal is then broken by the customer upon delivery. Such innovations are "even more important right now when it comes to the coronavirus and safety," he adds.
Trying to improve packaging, pricing and other aspects of the to-go order process is particularly crucial right now, while consumers are focused almost entirely on takeout and delivery—a trend that may continue once stay-at-home directives are lifted.
"It's going to be a long time before people are comfortable going to restaurants," Fileccia continues. "People will continue to do curbside pickup, takeaway and get food delivered. It's important, even in these circumstances, to put your best foot forward, working with a company that connects with you on that hospitality level—and whose drivers understand what you're doing."
Looking to learn more about restaurant industry trends and best practices? Sign up for our monthly Your Business e-newsletter.