Signature dishes that feature savory, delicious cheese can entice customers to keep coming back. Need proof?

Recent research confirms that consumers love cheese: nearly half (46%) say they look forward to signature cheese dishes when eating restaurant cuisine. Six in 10 operators believe adding cheese helps items sell better.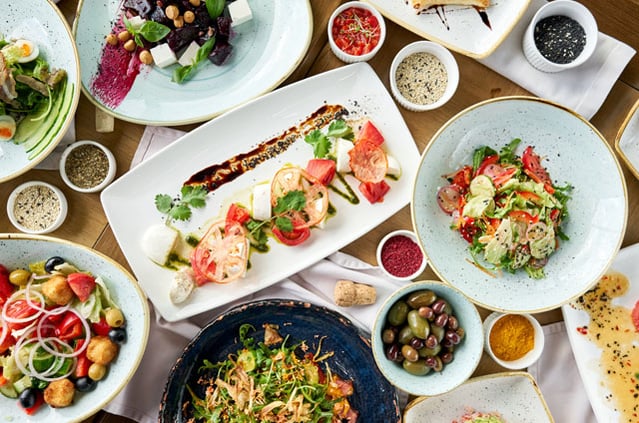 Certain varieties stand out as consumer favorites. Per Datassential, mozzarella is loved by 85% of consumers, followed by cheddar (82%) and Parmesan (79%). However, including other varieties—tangy blue cheese, for example, or creamy goat cheese—can also help make signature and new dishes truly memorable menu items.
Distinct dishes have taken on a particularly significant role this year, as operators in many states, having lost the ability to offer on-site dining, had to pivot and find ways to encourage takeout and delivery orders, says Michael Buononato, senior vice president of Creative Food Solutions, a food innovation consultancy with chefs in New York and Chicago.
"Cheese has the potential to boost affinity and sales when used wisely," Buononato explains. "Recipes featuring cheese have a leg up over other menu offerings [because] cheese is an ingredient guests are naturally drawn to. It delivers on flavor, quality and craveability—as a sustaining core menu item and as a promotional/limited time offer menu tactic."
Looking to craft a signature menu item with cheese? Chefs advise the following:
Incorporate Multiple Cheeses for More Perceived Value
Blending different varieties of cheese to build up a dish's flavor profile has become an increasingly popular practice, according to John Esser, a cheese consultant and chef.
"If people see something on the menu is a five-cheese blend, the perception is it has more flavor, and they're going to want it," Esser explains. Better still, you can charge more for it. Using a blend containing even 5% of a cheese enhances its flavor profile, he adds. "Saputo's Black Creek® 9-Month-Aged Double Smoked Cheddar Cheese, for instance, can really boost the flavor profile and aroma when that dish is coming out to the table."
Cheeses have to work well together to be combined, however.
If chefs are seeing "something melting out or oiling off, they're not quite getting their blend exactly right," Esser continues. "You really need to think about the moisture content, fat, the way cheese melts. You can't put a bunch together that have very high melting profiles—Monterey Jack cheese and muenster, for example—in one dish. It would just be really runny. Part-skim, low-moisture mozzarella cheese with some muenster would work, though."
Channel International Influences
Some cuisine, such as Italian fare, includes a number of signature dishes that prominently feature cheese—ricotta cheese-packed lasagna, for example, and baked mostaccioli that comes coated in a blanket of perfectly browned mozzarella.
"When I think about signature cheese dishes, I immediately think of Italian cuisine," says Nikki Trzeciak, executive chef and senior manager, culinary and sensory, Saputo Dairy Foods USA. "Italy makes more varieties of cheese than any other country in the world, so of course, cheese is front and center in their dishes. As we know, the French love their cheese, and it's definitely featured throughout many of their most popular dishes as well."
Cheese can also serve as a creative addition to cuisine from other countries, adds Esser, who has seen it pop up lately in items that haven't customarily featured much—or any—of the ingredient. "We've seen some mashup-type dishes [traditionally served in an] Asian culture that are incorporating cheese," he says. "Cream cheese in sushi has been around for some time. Now, it seems [some chefs are] using a firmer cheese—whether that's cheddar, mozzarella, Monterey or pepper jack—rolled into a sushi roll."
Sidestep the Usual Uses
Cheese doesn't have to just be melted on top or tucked inside items.
"I love to add shaved black truffles to fresh mozzarella curd and pull it into fresh cheese," Trzeciak says. "I serve it with freshly sliced prosciutto, dressed arugula and grilled bread. Nothing is simpler or more beautiful than a few amazing ingredients treated with love and care. In this dish, the truffle mozzarella is really the star of the show."
Chefs are using Parmesan, for example, in increasingly inventive ways that extend far beyond pasta, pizza and salads (the hard cheese's top three applications, according to Datassential MenuTrends data). "They're making different types of crisps out of it," Esser says, or using blocks of Parmesan as an "actual vessel for service—whether it's cracker-style, crumbled on top of something, or a salad that goes into a Parmesan bowl. I've also seen smaller vessels filled with something for an appetizer."
Customize to Create Signature Dishes
Cheeses can also be offered as a finishing touch for a dish in a way that will engage the customer.
"I enjoy using good Parmesan in place of salt in a dish—especially as a finishing step," Buononato says. "In pizza, Parmesan can be used as part of a cheese blend for topping, but it's often applied by the chef in the kitchen. I like the idea of creating Parmesan and seasoning blends that can be offered to the guest to apply themselves, the way salt and pepper would be used. This could be an opportunity to elevate and personalize the dining experience—and could be an upcharge."
Replacing meat with cheese or increasing the amount of cheese that's used can also augment a dish's appeal. "We've seen this used by market leaders in the pizza category to allow their customers to personalize their pizza experience, and the tactic is viable across many restaurant categories," Buononato continues. "As consumers seek to eat less animal proteins, cheese can be a flavorful replacement that can stretch from pizza to salads, bowls and beyond."
Whether you plan on introducing a classic menu item like a cheddar-topped burger or an unconventional appetizer like goat cheese and chicken tamales, including cheese in a dish can help it strike a chord with customers—and, in turn, drive sales.
"Dishes that feature cheese have always been a mainstay on restaurant menus," Trzeciak says. "People love cheese because of their emotional connection to it: It's really the nostalgic experience we have when we eat it. Think about pulling apart a great grilled cheese, or the cheese pull you get when grabbing that perfect slice of pizza. Regardless of how advanced someone's palate is, everyone can appreciate what cheese adds to any dish."
Saputo offers a full range of cheeses that can transform ordinary dishes into extraordinary ones. Learn more here.